British Seagull: A Tribute to a Classic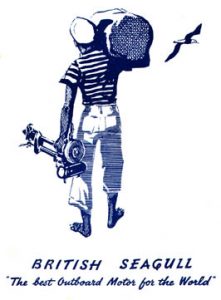 This page is dedicated to my classic British Seagull outboard motor, a Silver Century Plus Fixed Drive, Serial Number SP1718D8, which I purchased new on 23 June 1968.  It still looks excellent, as you can see from the pictures below.  And still runs as the first day!
Pictures of My British Seagull
With the sole exception of the rubber tie-down on the tiller arm for the throttle cable (replaced with two black tie-wraps), and the fuel valve repair procedure detailed below, this motor has never required any major disassembly or repairs.  It is still the same motor I received when new, except for normal wear, as I have replaced a few parts with new, original replacements when it has become necessary.  Yes, most parts are still available new or used from a number of sources.
After some four years of use with a custom-made 15-foot marine plywood dinghy, I lay it down for some 25 years.  These were the years of my graduate studies abroad, and of the return to my country to establish my independent practice as a clinical psychologist.
In 1998, I took my Seagull out of storage, gave it some tender, loving care, replaced the high tension coil cable and plug cap, the throttle cable, put in a new Champion D-16 spark plug (I decided to keep in storage the few original Champion 8-COM spark plugs I still have), repaired the fuel valve, cleaned and calibrated (gap of 0.50 mm/0.020″ for both the points and spark plug) the contact breaker points and spark plug, and put in some fresh SAE 140 oil in the gear case (I replenish the oil after getting the water out which has entered the gear case, approximately after every 15 hours of use).  Works like a charm since then.
Pictures of My Crestliner
In 2000, I got a 4.9 m/16′ in length aluminum Crestliner JRMV 1648 boat, which I used (until I moved to Canada from the Dominican Republic) with my Seagull for fishing in dams, lakes, rivers, and, yes, quite daringly, in open waters of the Caribbean Sea when it is calm and the wind is down.  The Seagull has always been a faithful, reliable, trustworthy, and, in all frankness and fairness, a very noisy and smoky companion.
Typical fishing outing is some 8-10 hours running at one-half to three-fourths full throttle, only stopping to refuel.  Of course, I continue to use the recommended fuel mixture in the proportion of 1 part of outboard oil into 10 parts of regular gasoline (1:10).
Needless to say, I always carry some spares, like new spark plugs, propeller springs and retainers (washers and split pins), as well as several hand tools, including a gap calibrator.  And, following the owner's manual, I always secure my engine (and all gear aboard) with a lanyard.
My Seagull has always brought me and mine back to port, regardless of rain, wind, or how rough the sea has gotten.  And I trust it will do the same for my children, when they become of age.
><((((º>¸.·´¯`·.¸¸.·´¯`·.¸<º))))><
Links
The links below open images, documents, or presentations which, unless otherwise indicated, are of the authorship of Angel Enrique Pacheco, Ph.D.  We hope they are of use to you.
As new publications are made available, we will include them in the appropriate sections of this website.  We may also update the content as necessary to comply with new information, regulations, or professional practice standards.  Visit us often to enjoy the publications to help you Learn to Live Better ®.
It must be understood, however, that these publications are made available to you to enhance the therapeutic relationship you may be participating in, and, as such, they should not be used as a substitute for professional mental health services.
The links to these publications open in a new page  while keeping open the main page.  To return to the main page you may simply close the new page, and/or click Alt + Tab in your keyboard.
The use of these publications is governed by the terms of our Copyright Notice.
BY CLICKING ON THE BUTTONS BELOW YOU ACCEPT ALL TERMS AND CONDITIONS OF OUR COPYRIGHT NOTICE, AND GAIN ACCESS TO THE PUBLICATIONS.
The Fuel-Oil Mixture Controversy
All You Ever Wanted to Know About the British Seagull But Were Afraid to Ask

><((((º>¸.·´¯`·.¸¸.·´¯`·.¸<º))))><
 We are here to help you…
 Learn to Live Better ®
><((((º>¸.·´¯`·.¸¸.·´¯`·.¸<º))))><